Good Morning! Seems that this summer I have been on a food kick lately. Here is another yummy recipe I've been wanting to try and finally had a free Saturday morning to give it a try and IT.IS.WONDERFUL!!!
Homemade Sour Cream Pancakes
Ingredients
1 cup sour cream
7 tablespoons all-purpose flour
2 tablespoons sugar
1 teaspoon baking soda
1/2 teaspoon salt
1/2 teaspoon vanilla extract
2 large eggs
Butter
Syrup
Method
Whisk together eggs and vanilla in a small bowl and set aside.

In a separate bowl, stir together flour, sugar, baking soda and salt.

Then add sour cream to dry ingredients and stir just to combine (don't over mix.)

Whisk in the egg and vanilla mixture until just combined.

Heat griddle over medium-low heat. Spray with cooking spray or coat with melted butter. Drop batter about 1/4 cup onto griddle. Cook first side until bubble start to form on surface and edges start to brown. Flip and cook the other side for about a minute.

Serve with softened butter and syrup. I used Brummel and Brown Yogurt Butter for extra yumminess.
*recipe adapted from
here
I love this recipe! Simple ingredients that everyone has on hand and then adding in the sour cream to make the most perfect, soft, wonderful pancake!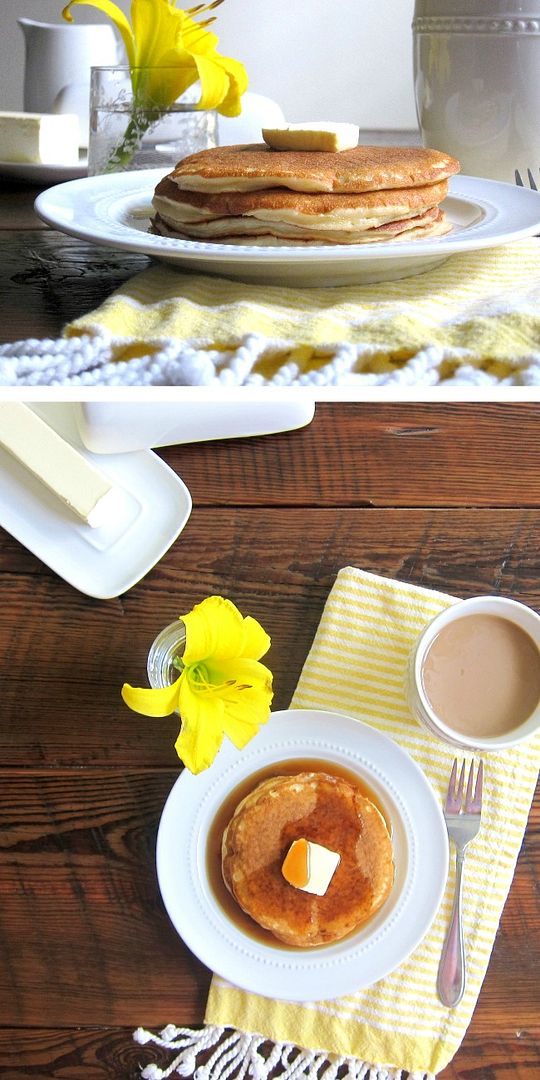 Give'em a try on your next free weekend...they won't disappoint!
Have a wonderful day everyone!